With Valentine's Day approaching in two weeks, you may be thinking of a decadent chocolate escape for your loved one. Whereas women are often served with a heart-shaped box of chocolates, they may want to serve their man a delicious creation from the kitchen.
Whereas the German Chocolate Cake is actually an American creation (that maybe I will address in a future post), the Black Forest cake is truly a German creation. Although the name suggests it originated in the Schwarzwald (the Black Forest), the name actually stems for the specialty liquor from that region, Schwarzwalder Kirsch(wasser). It has a distinctive cherry pit flavor that provides its typical flavor. Although there are other versions of the cake that may omit or substitute this liquor, German law says a cake must have kirschwasser in order to be labeled Schwarzwälder Kirschtorte  (Black Forest Cherry-torte). The History of the Classic Black Forest Cake | Blog – MyFlowerTree.
The Schwarzwalder Kirschwasser is distilled from tart cherries. This alcoholic content gives the cake its flavor. Cherries, cream, and Kirschwasser were first combined as a cake in Germany but other similar versions are around.  The Swedish Schwarzwaldtorte is related to the Black Forest cake. It consists of meringue and whipped cream layers. The whole cake is also covered with whipped cream and decorated with chocolate.  The History of Black Forest Cake | Foodimentary – National Food Holidays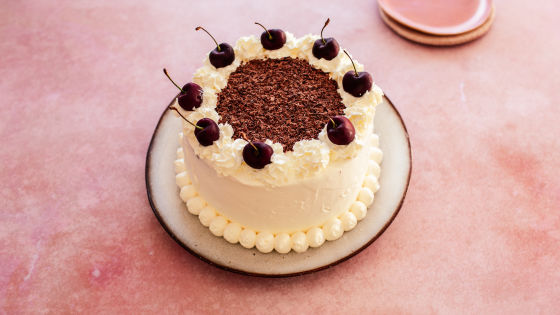 Pinpointing the exact origin of the recipe for the Black Forest cake is difficult. Some say Josef Keler (1887-1981) invented it. He was a pastry chef near Bonn, Bad Godesberg, Germany. He served the "Black Forest Cherry" for the first time in 1915. He served it in his own restaurant, Radolfzell's, in the 1920's until he gave the recipe to his collaborator August Schaefer. Before long the recipe was discovered by others such as Erwin Hildebrand in Tubingen in 1930. History of Black Forest Cake – PONDAN – Kreasi Pondan Food. One of the reasons many suspect the validity of Keller story is that he lived 500 km (219 miles) north of the Black Forest. It would be more than a 3-hour trip by car today.
The name Black Forest name for the cake may also have been inspired by the big red pom pom hats called Bollenhut that are part of the traditional dress in the region. They look like large cherries on top of black and white costumes, similar to the cake's appearance.
Odd Facts about the Black Forest Cake
In 1934 the cake was typically associated with Berlin and served by high-class confectioners in German, Austrian, and Swiss cities.
In the year 1949, the Black Forest cake was able to grab the 13th place in a list of best-known German cakes.
The record for the world's largest authentic Black Forest cake was set at Europa Park, Germany on 16 July 2006, by K&U Bakery. (Measuring nearly 80 m² (900 sq ft) and weighing about 3,000 kilograms)
On 9 December 2012, a team led by chefs Jörg Mink and Julien Bompard prepared Asia's biggest Black Forest cake at the S-One Expo in Singapore. The cake weighed about 500 kg. The History of the Classic Black Forest Cake | Blog – MyFlowerTree
Black Forest Cakes began appearing in the US in the early 1960's and was readily adopted by Americans. The recipe quickly appeared in American cookbooks featuring German fare and other dishes. Black Forest cake is the most popular chocolate cake from Germany in America. So much so that March 28 became Black Forest Cake Day. American Cakes – Black Forest Cake History and Recipe
My sister Christie has made a number of Black Forest cakes over the years. She says it is important to use fresh ingredients, real whipping cream and vanilla for a good cake. She makes her own cherry sauce rather than the canned pie filling for a sweeter, richer tasting cake. You can expect it to be heavier than the store-bought versions and delicious. This elegant cake is perfect for occasions when you want to indulge a bit. So, you can put it on your calendar for Valentine's Day or March 28, or both!
There are several excellent places to find recipes online. I suggest you search for one that fits your baking expertise the best and enjoy!